Let's Create a Photo Portfolio With WIX
Whether you are just starting your career in photography or you are a seasoned professional there is one fact you can not argue with - you have to have a portfolio. Portfolios sell, this is the only way for you to get clients after all. Think about it - is there really any other way for you to show people how awesome you are, what you can do with that camera of yours?
Now that we established how important a portfolio is for a photographer of any caliber - let's build one!
The things you'll learn:

Yep, we are going to make a professional portfolio website from scratch. We already know the basics of how to create a website with WIX. We will repeat some of the steps from that tutorial here, in case you haven't read it.
Before we start with the actual steps, there are some things you need to consider:
Your goal. What exactly are you planning to achieve with this portfolio? What work are you going to focus on? Are you going to present yourself as a portraitist? A landscape photographer? A food photographer maybe? It is good to be a multi-instrumentalist sometimes, but being dedicated to some particular theme, being an expert in one field - this is what you want to show your potential clients. If you aim to earn their trust that is.
Your audience. If you were planning to aim your portfolio for everybody, think again, because this way you are aiming it to nobody really. Do you want to get interest of potential clients? Your friends and family? Big companies? You need to make sure you understand who your audience is and target it.
Let's start
Go to the Wix website.
Click the "Start Now" button.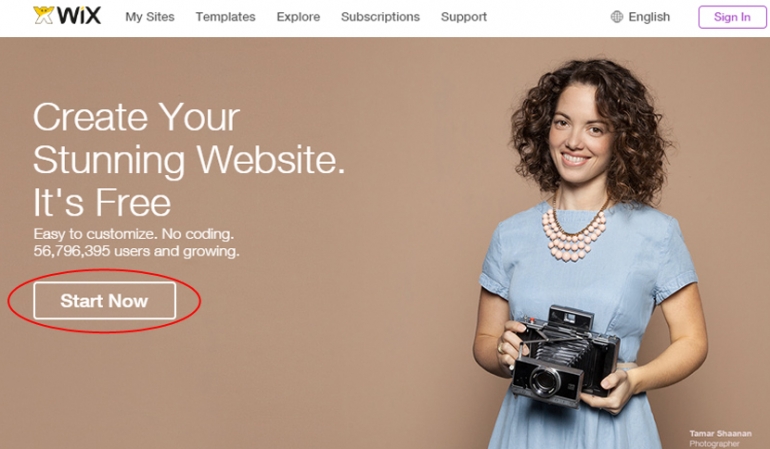 Fill in the sign-in form.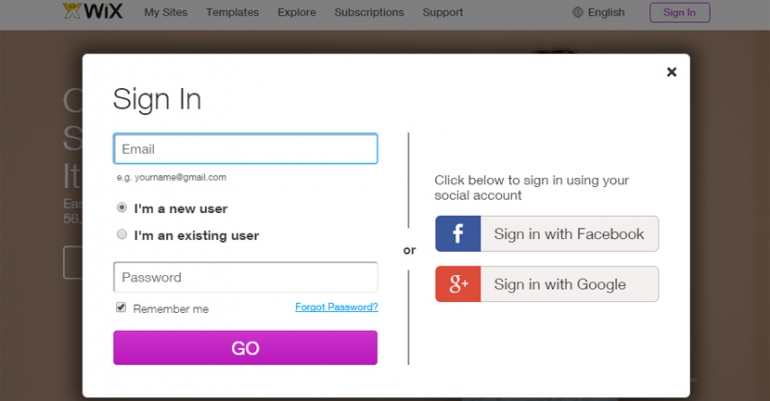 Now let's choose a template
After you log in, Wix will ask you to choose a category for your website, choose the Photography category. If you are an existing customer, like I am, you'll be directed to your account, just click on the 'Create a New Site' button on your right and you'll be taken to the templates collection.

When choosing your future website's design remember - an online portfolio should be clean, easy to navigate and very accessible.
After you've found your perfect portfolio template click the 'Edit this site' button.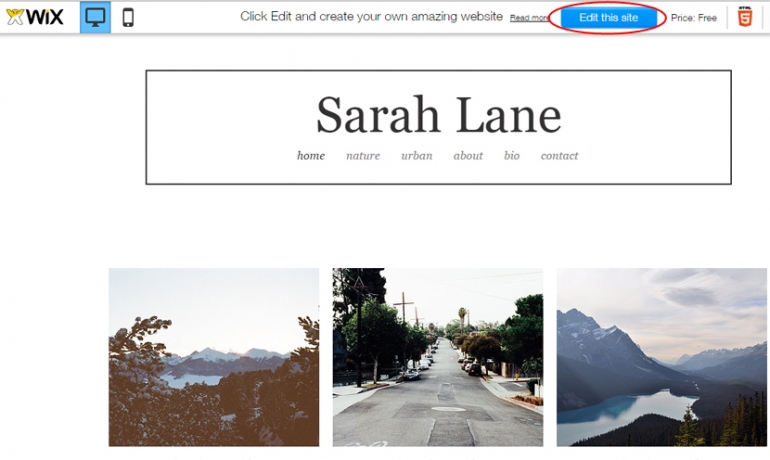 Editing
Those of you, who read my previous Wix tutorial, know that the editor gives you numerous opportunities to customize literally everything. But since we are making a portfolio website today, and as previously mentioned - it needs to be clean and easy to navigate, I am not going to play with the editor as much.
The template I've chosen is very clean as it is. There is no need to change the background, the focus has to be on the photos, so we are going to customize the gallery now.
To change anything in the Wix editor you just need to click on it. By clicking on the image in the default gallery I can organize images, change style, add animation and even change the gallery type.
While I can change the gallery type to any type you can imagine really, I am not going to, I like the grid type, it looks minimalistic and stylish in this case. If you'd like to explore the opportunities just click the 'Change Gallery Type' button.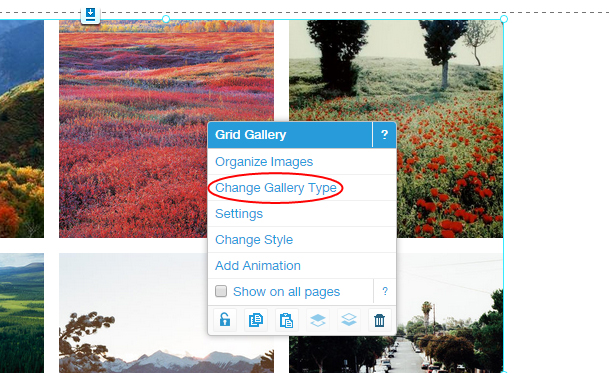 I am going to add my own pictures with titles and descriptions now. I'd like to emphasise here - you should show only your best work in your portfolio. You need to impress the viewers after all.
To add your own pictures click the 'Organize images' button.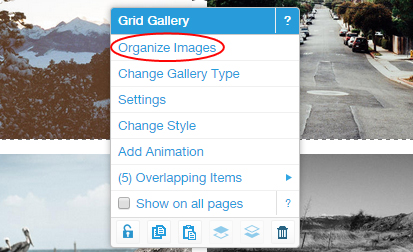 Now you see the gallery editor. Here you can add your pictures, delete the existing ones, change their order and add titles and descriptions.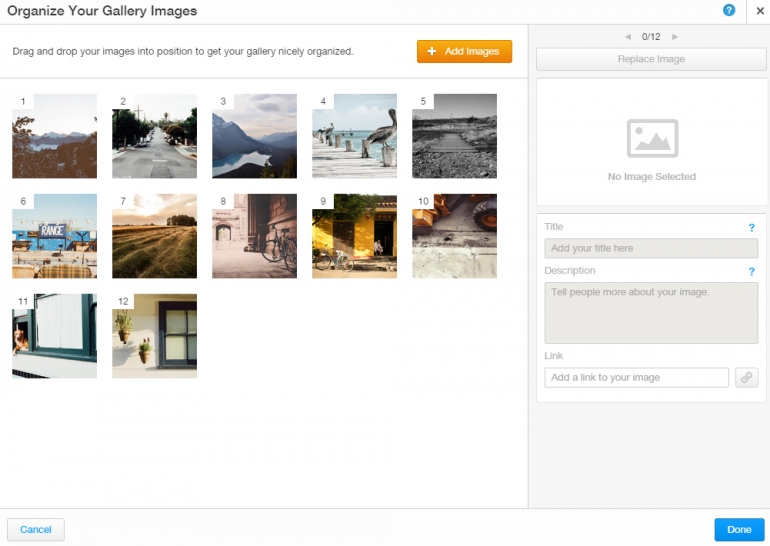 After you are finished adding your photos don't forget to click the 'Done' button.

Let's change the name and organize our pages now
To change the name in the header (as well as anything else) just click on it.

Now I'm going to change the names of the pages in the menu. I want to rename the nature page into landscapes, so after I am taken to the pages editor I do just that. Please note - the editor offers you to change the page address as well, do that, you don't want your pages to have different names from their addresses. The pages editor allows you to add and delete pages, set a page as homepage or hide it from the menu. You can also change the page layout and style.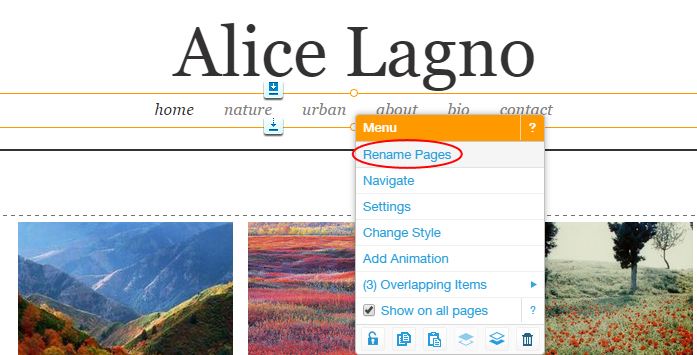 Here is my portfolio with the alterations I've done: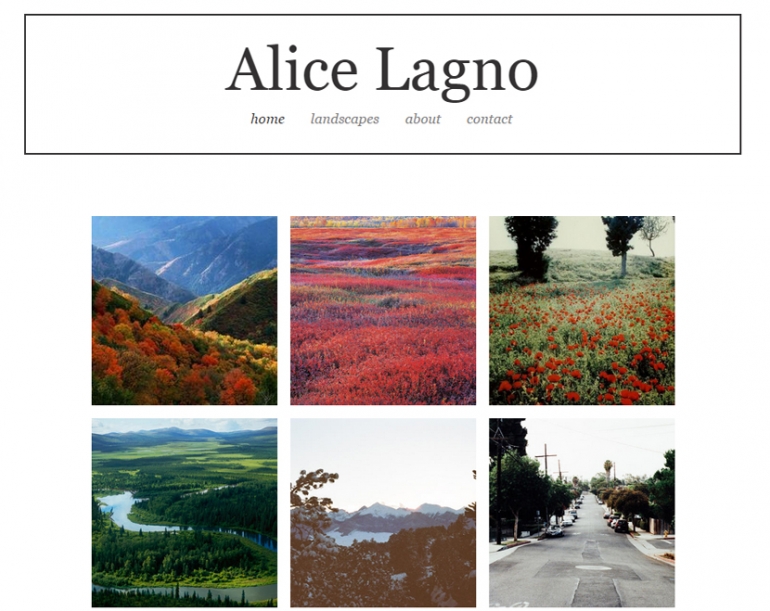 You can always check out how your page looks by clicking the 'Preview' button.

I don't see why I would need both about and bio pages, so I deleted the bio page. I also removed the urban page, since I decided my portfolio is going to be focused on landscapes.
I am doing all of these alterations to illustrate the opportunities the Wix editor offers, so feel free to change the things you want to change and leave untouched the things you want untouched, this is your portfolio after all.
More than just photos
While photos are the main part of any portfolio, there needs to be more than just the images. Here's what I suggest you should have in your portfolio except those brilliant photos:
An artist statement. You may describe your artistic views, your approach to the topic of your artistic interest.
Short description for each photo. Don't overwhelm your viewers with technical details though.
A short bio. Again - give the information but do not overwhelm the reader. Less is more in this case.
Up to date contact information. This is very important, you want your potential customers to be able to contact you, so give them as many ways to do that as you can.
Don't forget about usability
Even if your photos are breathtaking, but the website is not user friendly and easy to navigate, you are doomed. If you don't think you are up to the task of creating a good website - that's perfectly fine. There are dozens of places to seek advice from, this blog for one. Plus Wix itself has an amazing support system plus a blog and forum full of valuable info.
Publish it
Once your photos are uploaded and info written and added, you need to publish the website. You do not need to buy separate hosting service or a domain name (though I do recommend upgrading to a premium account and going for an actual domain name). All you need to do is click the 'Publish' button and your website is up and running just like that!

A conclusion of some sort
Creating a portfolio is not rocket science, you can do it with no hassle in a few minutes. What I love about Wix is its flexibility. You can always add, edit, or completely redo anything and everything in your website and it's all absolutely free. Go ahead and try it!